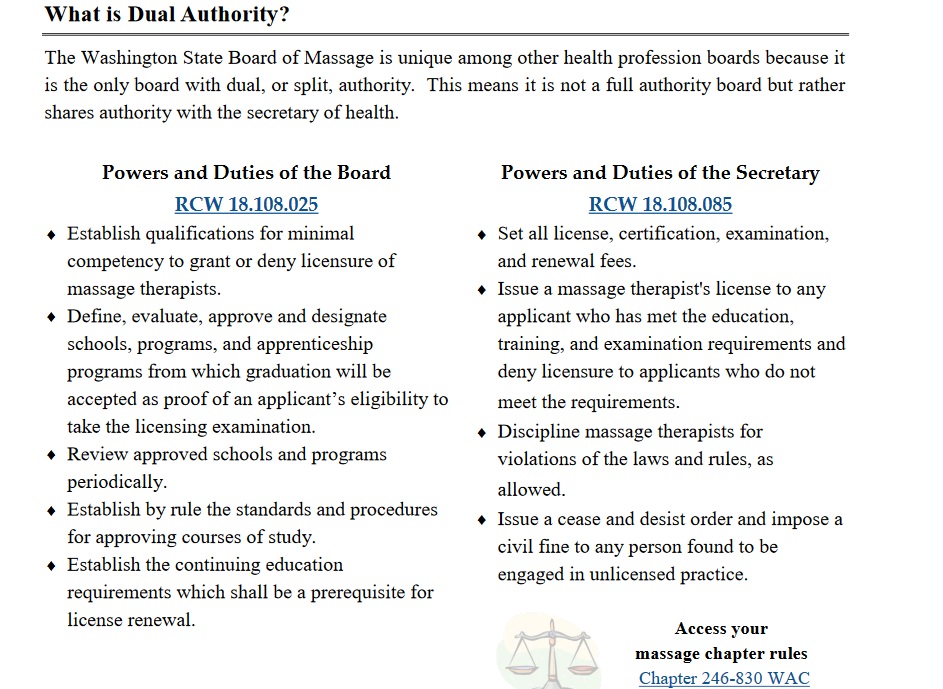 The Washington State Board of Massage shares it's authority with the Secretary of Health. The main function of the BOM, is to protect the public from harm.
The Revised Code of WA (RCW's) are created by the legislature.
A rule or Washington Administrative Code (WAC) is written to provide interpretive support for the individuals or entities to whom the rule applies. Department of Health rules are written and adopted by a board or commission, or the secretary of the Department of Health. Rules or WACs carry the full force of the law.
Rule Making.
The BOM has been in a rule making process. What this means is that they are going through all of the rules for massage therapists line by line and making additions or changing the language all together. Their main goal is to change the rules in a way that will reduce the number of complaints against massage therapists and continue to protect the public from harm.
Here are the changes for 2017 and a list of why they changed each section.
Permanent Rules 2017, Department of Health
Keep up to date with the rule making process. Attend Board of Massage Meetings. Sign up for their listserv for announcements.
Watch their rules in progress page.